Where your child is loved.
Where you are family.
Blue Ridge Pediatrics was founded in 2009 by board certified pediatrician, Dr. Carey Molin Gully, MD, FAAP.  She and her board certified pediatric nurse practitioners and physician assistants provide professional, personalized care for newborns, children and adolescents.  Our staff strive to know each child as an individual and provide care specific to their needs.  We want our patients to feel at home.  We want parents to know their children are cared for and loved.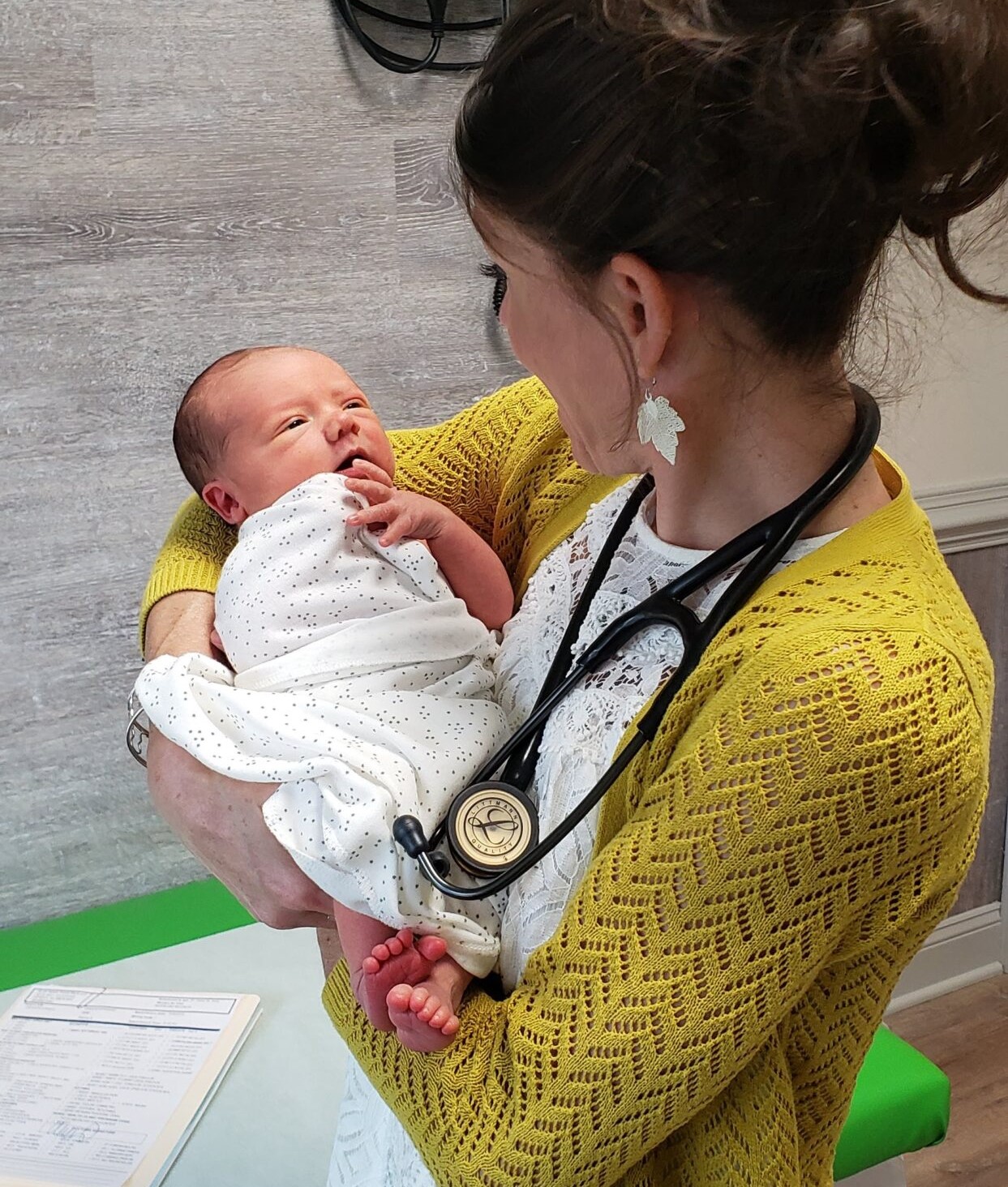 Take a Virtual Tour
Visit the link to take a walk through our office with your chid.  Click on the arrows to step inside our newly renovated waiting rooms, patient rooms and more.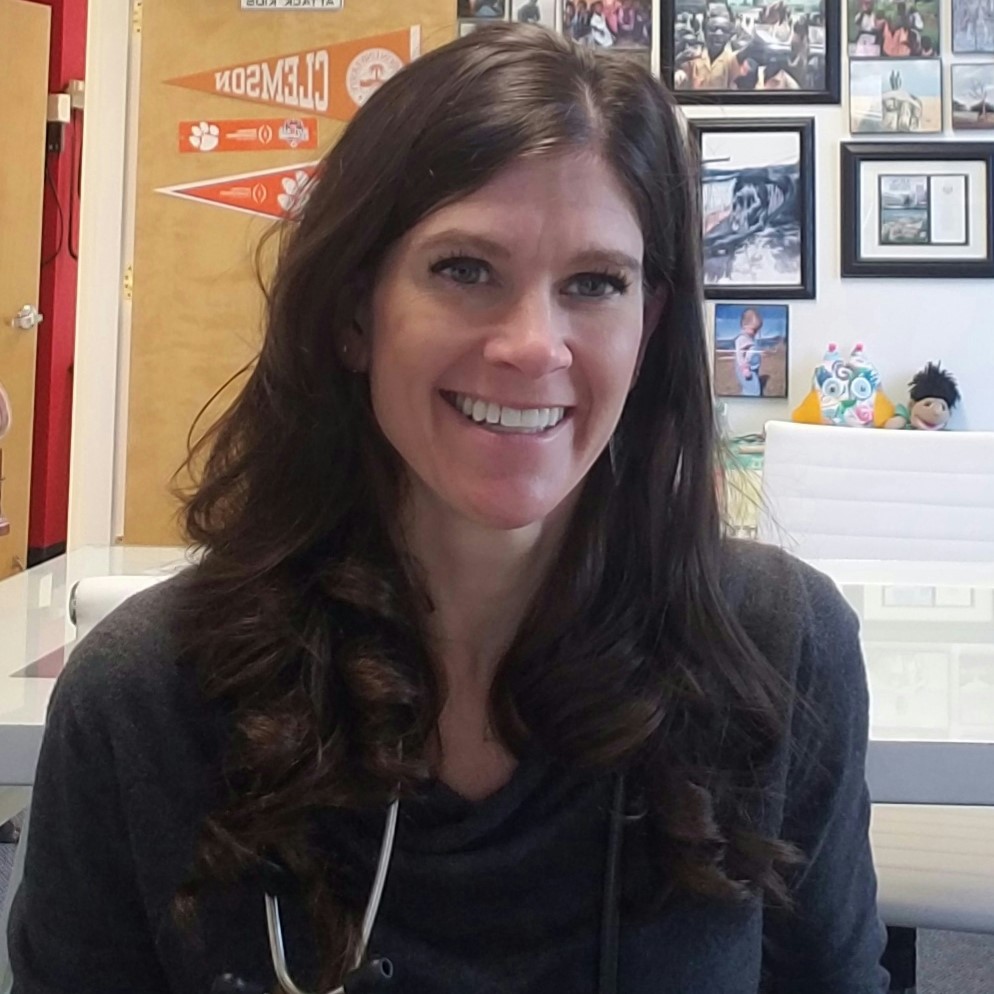 Dr. Carey Gully, MD, FAAP
Carey Molin Gully, MD, FAAP
Dr. Gully was born in Six Mile, SC and graduated from Daniel High School in 1995. She attended Clemson University and the University of Newcastle in Australia. After graduating Magna Cum Laude in three years from Clemson's Honors College with a degree in Food Science and Nutrition, she moved to Charleston, SC where she received her medical degree in 2003 from the Medical University of South Carolina. During medical school, she spent two months working in a pediatric ward at a small district hospital in Ghana, West Africa. Dr. Gully completed an internship in Combined Internal Medicine and Pediatrics at Greenville Hospital System. She graduated from the pediatric residency program in 2006 and moved to Seneca to practice. In August of 2009, Dr. Gully purchased the practice and named it Blue Ridge Pediatrics. Her special interests include asthma, autism, sports medicine, and pediatric obesity prevention.  Dr. Gully was an internationally competitive gymnast before becoming a diver on Clemson's Swimming and Diving team while in college. She is married to David Gully who is a custom home builder in the area. They have a daughter and a son. Dr. Gully LOVES TO TRAVEL.  Ask her about her adventures with her children and family.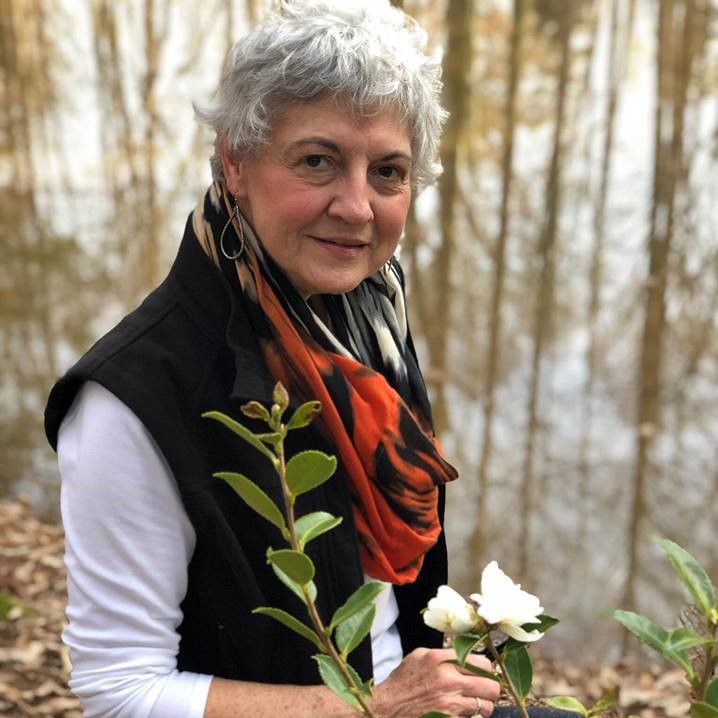 Janet Motley, PNP
Janet is a Pediatric Nurse Practitioner board certified by the Pediatric Nursing Certification Board.  She graduated from Florida State University in 1976 with a Bachelor of Science degree in Nursing. She received the Sigma Theta Tau National Nursing Honor Society Award of Distinction. Prior to graduation she became aware of Pediatric Nurse Practitioner programs developed to ensure all children would have healthcare. This changed her professional direction. In 1978 she completed her Pediatric Nurse Practitioner program at the Medical College of Virginia at Virginia Commonwealth University.
Her experiences have allowed her to work with children of multicultural and economical diverse backgrounds. She has provided pediatric healthcare in hospitals, private practice, summer camps, health departments, Native American Health Services, public schools and a college health center. She is a certified Asthma Educator and Legal Nurse Consultant.  Janet's special interest areas are asthma, developmental delay and burns. She is a strong advocate for childhood swimming competency.
She has two married sons. Janet is known as "Nonna" by her grandchildren and she loves spending time with them.  She enjoys hiking, kayaking, birding and wildflowers. Her favorite place in the Upstate is the South Carolina Botanical Garden. She also enjoys reading and genealogy.
After years of dedicated service Janet retired and returned to Clemson.  We are very happy to have her working with us to help with provider staffing needs.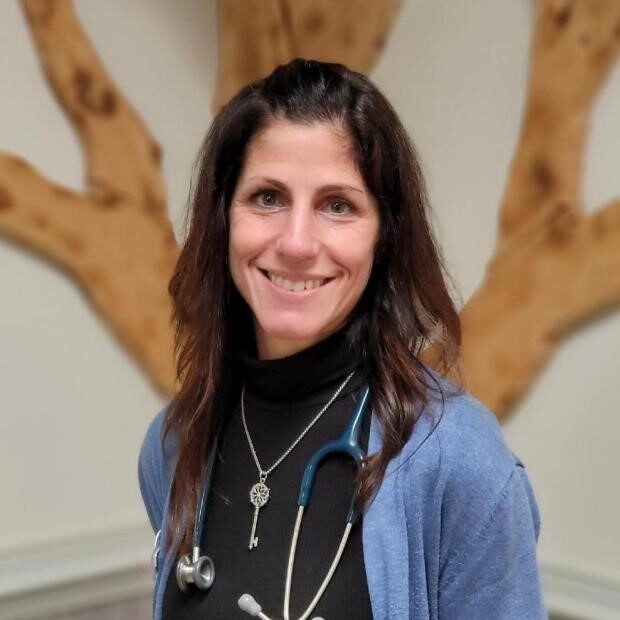 Staci Naso, PNP
Staci is a Pediatric Nurse Practitioner from Long Island, New York.  She joined Blue Ridge Pediatrics in 2022.  Staci brings with her years of experience working in private practice and is committed to building strong relationships with her patients and their families. She graduated Magna Cum Laude from SUNY at Stony Brook in 2015 where she completed her studies as a PNP. Prior to moving to South Carolina, she worked in a busy private practice with a solo Pediatrician. Staci and her husband, Steve, have two boys who are talented Lacrosse players. In her free time, she enjoys traveling to Duke University and College of the Holy Cross to watch her son's play Lacrosse.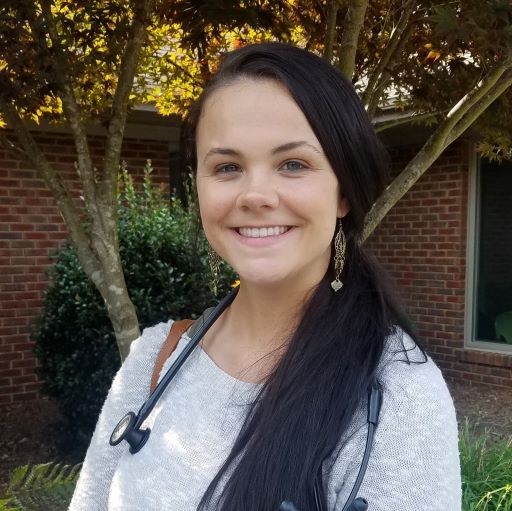 Rachael Dorsey, FNP
Rachael is a Family Nurse Practitioner board certified by the American Academy of Nurse Practitioners.
She graduated from Clemson University with a Bachelors of Science degree in Nursing in 2015. In 2018, Rachel graduated with honors and a 4.0 GPA from Clemson University with a Master's of Science in nursing. She is a member of the American Association of Nurse Practitioners, and invited member of the national nursing honors society, Sigma Theta Tau.
Rachael worked as a nurse in the Emergency Department at Anmed Hospital before returning to school to become a Nurse Practitioner.
While enrolled as a full time student in Clemson's Nurse Practitioner program, Rachael worked full time as a nursing assistant in Anmed Hospital's Med-Surg unit. She worked Friday, Saturday and Sunday 12 hour shifts and managed to maintain a 4.0 GPA.
Rachael was a graduate teaching assistant for Clemson's Joseph F. Sullivan Center Mobile Health Unit. The mobile unit serves primarily underserved health populations in rural communities. As an employee of the Sullivan Center, Rachael also practiced at the Clemson Free Clinic, Walhalla Health Department, Hillcrest Hospital, and Samaritan Health in Easley.
She lives with her husband, Austin, in Anderson, SC.  They have a daughter and a son who they absolutely adore.  She is an avid Clemson football fan, has a passion for coffee, and spending time with friends, family (including her 8 nieces and nephews), and her fur-children.
Rachael is intelligent, hard working and compassionate. Most of all, her love for the kids and their families is apparent.
Experienced Providers
Dr. Gully has over 19 years experience in Pediatrics.  Our providers are board certified and passionate about continuing education.
Personalized Care
Our providers strive to know your child on a personal level.  Treatment plans are based on collaborative input from patient, family and physician.
Physician On Call 24/7
No nurse lines ever.  Dr. Gully answers all calls personally after hours. via telehealth by calling the office and following the prompts.  Because we know accidents happen.
Same Day Sick Visits
When your child is sick, we are here.  All sick children are seen the same day..  Period.  Call anytime during office hours and our providers will see your child right away.
Community Outreach
We believe that volunteering in the community makes us better at our jobs, strengthens connections in the community, and establishes lifelong relationships essential in providing effective healthcare.
Lactation Specialists
We know that breastfeeding isn't always easy.  Our two certified lactation specialists. are  committed to helping  mothers be successful in breastfeeding.
Expansive Lab Services
Extensive laboratory studies available on site including Rapid COVID-19 Ag and PCR testing, Flu, Strep, Mono, hemoglobin, lead, urinalysis, stool studies, pregnancy testing and many others.
Circumcision
Dr. Gully performs circumcisions routinely in the office in infants under one month of age. Parents are encouraged to discuss plans to circumcise their sons with our staff prior to or shortly following birth.
Well Child Care
Well Child Visits are scheduled according to the American Academy of Pediatrics guidelines.  Be confident your child's growth and development is closely monitored.
Virtual Visits
While it is always preferable to see your child in person in the office, we realize there are circumstances where telehealth can be beneficial.  Telehealth visits are conducted via Doxy.me.  Call the office to schedule an appointment with one of our providers in a virtual patient room.  Please be aware that these visits are billed the same as a in person office visit, but can be a convenient option in certain situations.
After Hours Emergencies
Dr. Gully prefers all after hour emergencies be handled by her rather than Urgent Care or the Emergency Room.  If you feel your child has an emergency that can't wait until the following morning, please page her by calling the office and following the instructions.  You will recieve a text mssage with a link to meet her in a virtual patient room.  Your child will be seen via telehealth within the hour.
Hours
Monday-Friday
8:30 to 12pm and 1:30-5pm
Fax: (864) 888-4462
"The entire staff at Blue Ridge is amazing! My daughter is 16 months old and we've been with the practice since week 2. Every time we have a concern they get us in same day. Dr. Gully and staff is on call at all times as well. Above everything, we feel welcome and cherished. The staff remembers us each time we come through and makes sure to smile and make us feel at home. As a new mom, I could not have imagined we'd have access to this level of service and I am so thankful for such an amazing group to put my mind at ease when we need it most!"